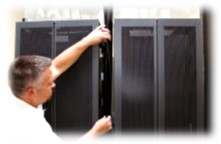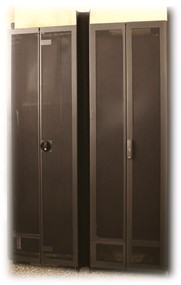 Simplex's New Flexible Gap Seals (FGS) close off gaps between racks in your data center, increasing the cooling efficiency of your hot aisle/cold aisle isolation system and drastically reducing energy costs.
• Custom heights are available.
• For larger gaps, Simplex Expandable Filler panels are available.
Simple and Fast Installation
1. Squeeze the two edges together with the magnet strip is facing out.
2. Slide into the gap.
3. The magnets seal to the sides of the racks, completing the installation!!!
EFP Panels increase energy efficiency by allowing data center managers to quickly seal off spaces created by removing racks, as well as spaces between racks and support columns or other equipment.
§ Five sizes cover from 6.5" to 56.5"
§ Installed with magnetic seals. No drilling or mechanical fasteners needed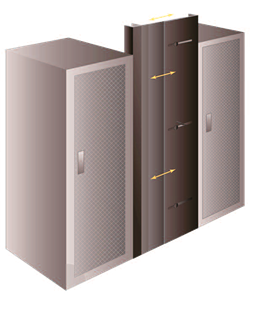 Steps to Easy Installation
1. Position panel between racks. Loosen all three knobs.
2. Expand panels to cover entire opening. Allow magnetic strip to catch hold.
3. Adjust knobs by pulling and turning until tight.
4. Insert vinyl molding as needed in exposed slots.
EFP Panels are made from durable 1/8" thick, aluminium-skinned composite materials that are Class 1 fire-rated.